Tis the time of the year when cartoonists start drawing their Santa cartoons. Some are naughty and some are nice. But all of them below are ones that I liked.
---
Glenn McCoy, always a joy, nailed the culture this Santa season with the one above. Donchathink?
---
Cartoonists are going to be able to kick Roy Moore around until he concedes and goes quietly into the night. Until then – he's fair game as Lisa Benson so ably shows.
---
Bruce Tinsley does his magic once again with this timely and truthful cartoon.
---
Bob Gorrel's clever cartoon on the coal in the stocking theme this year.
---
Gary Varvel never lets us down. And this one is certainly a keeper!
---
 A.F. Branco – at his snarky best this year.
---
Tim Harman is a new cartoonist in my file – but his sentiment is one to which we can all relate.
---
Glenn McCoy being brilliant again.
---
Sometimes it pays to pay attention as this reindeer, I think it's Prancer, is about to find out. Glenn McCoy at his best. Again.
---
  Cartoonist John R. Rose seems to notice some kind of a pattern.
---
Cartoonist Steve Kelly seems to believe that Santa might have some objection to being groped. So sad that so many citizens now seem to take it for granted.
---
Steve Kelly wants Santa to answer that question. So do I.
---
Do you think maybe cartoonist Walt Handelsman might be a tad suspicious that Santa is blaming Rudolph?
---
Tom Stiglich gives us a cartoon showing another day, another bit of information showing the "Mueller" investigation was invested in taking down Trump from the gitgo. By hook or by crook.

---
Jerry Holbert suggests a book we can hope a lot of men will read this season. And one that most men all ready have read and applied to their life and their lifestyle. It's just called common decency.

---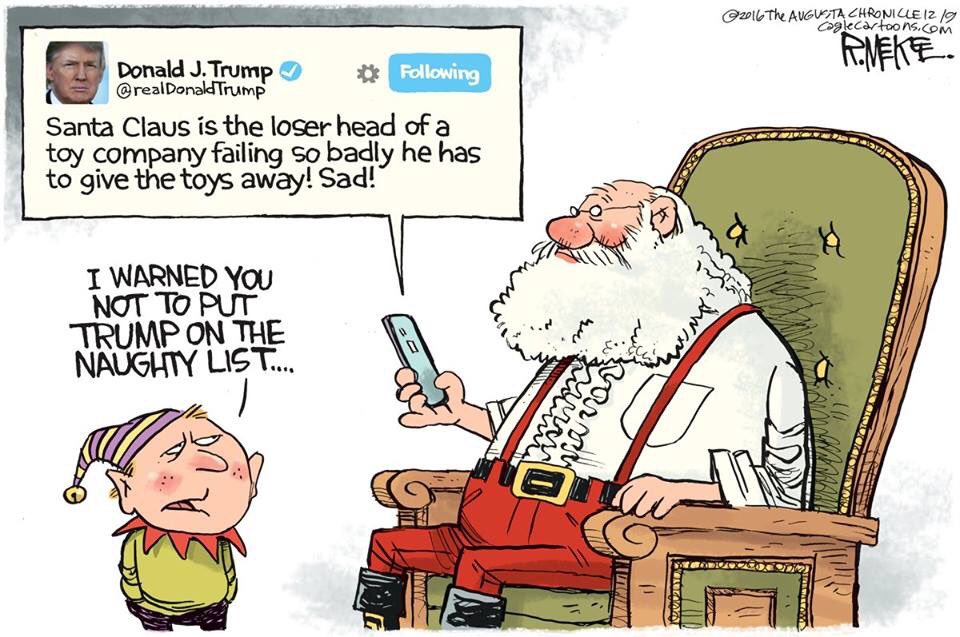 Rick McKee offers Santa some good advice via elf mail. Der Donald never lets a slight, real or imagined go unanswered. Sad.

---
Most of the time I think cartoonist Dave Granlund is a liberal idiot. But once in awhile…
---
Have a great day as we get closer to the best day of all – the day of Jesus birth.
This is, as always, an