Oh, this is rich. I have to say, I do love when truth will out. And this cannot be written off as some "youthful indiscretion," oh, no. This was just back in 2007. Yep.
And that would be this little love note Donald Trump sent to none other than Nancy "Republicans Are Arsonists" Pelosi. From IJReview:
Donald Trump has called her one of the best, and now, it just might come back to bite him.

The real estate mogul sent then-House Majority Leader Nancy Pelosi a copy of the January 5, 2007 edition of the New York Times with a note.

The above-the-fold headline story reads: 'Jubilant Democrats Assume Control on Capitol Hill.' The photo: Nancy Pelosi, a newly-minted House Majority Leader, shaking her gavel at the speaker's chair alongside a crowd of children, in front of an American flag.

The note says:

"Nancy–

You are the greatest!

Good luck–

Donald"

See it, below: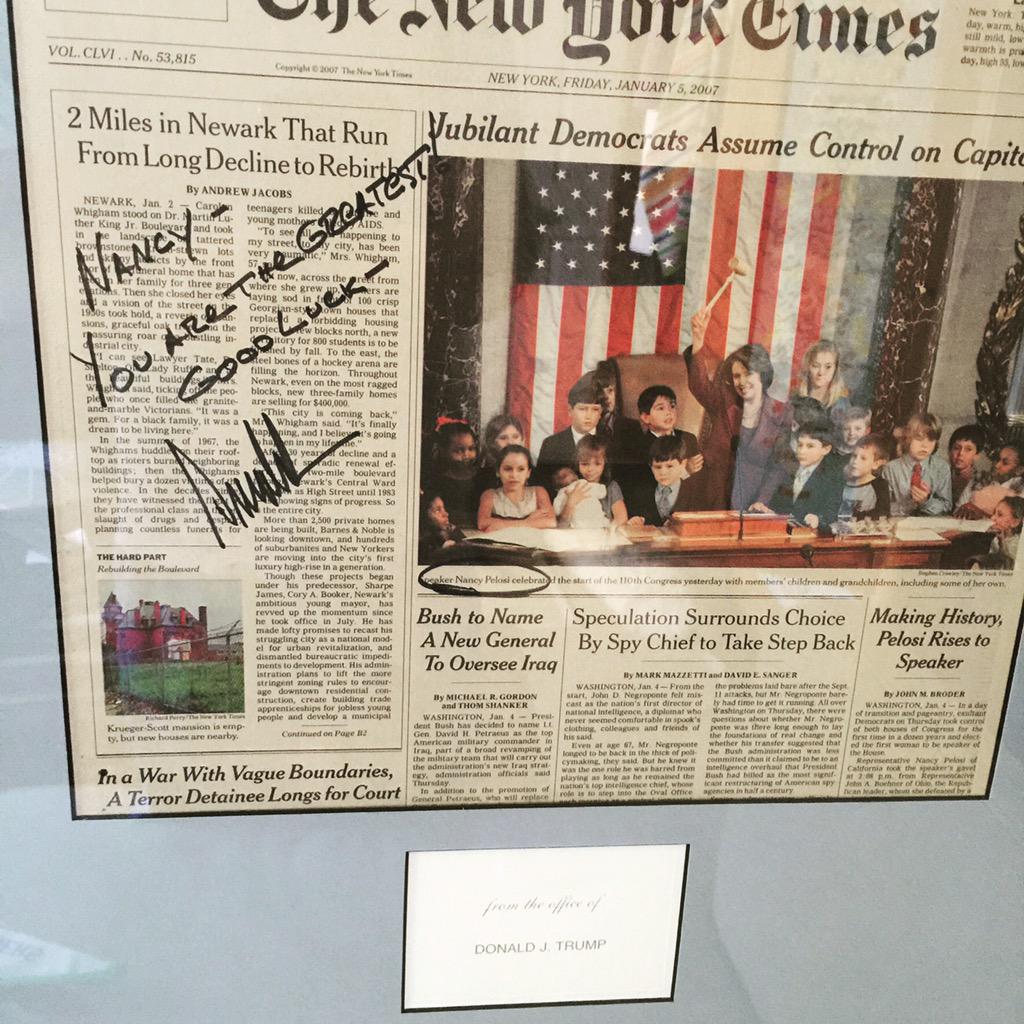 (Click here to read the rest.)
Here is Donald Trump making clear that he has given money to Harry Reid and Nancy Pelosi, in 2006 Jake Tapper made clear, to help Democrats reclaim Congress. You remember what they did with that power, right? Gave us Obamacare. Just saying. Anyway, here is Donald justifying the money given while claiming to be a "Conservative Republican":
Uh, yeah. Sure. I am sure that is precisely why he told Nancy Pelosi she was "the best," because he is a Conservative Republican. Right.
Meanwhile, maybe some folks are figuring out that all this hot air is just that – hot air. Turns out the good doctor, Ben Carson, is catching up to Trump. It's still early days, but it is heartening to see that things are starting to shift some. Maybe people are finally realizing they need to look at what Trump has said and done in the not-so-distant past to get an idea of how valid are his claims now.
And speaking of the "real person standing up," something I realize I could apply to a HOST of politicians, it turns out that Sen. Elizabeth Warren (D-MA), she of the faux Cherokee heritage, hypocritically supporting the OWS as a millionaire who made a bunch of her money flipping foreclosed upon homes by Fannie and Freddie, and who just met with VP Joe Biden in what appears to be a political pow-wow for a possible Presidential run, once wrote a paper criticizing that very same man. From The Hill:
[…] With his presidential aspirations growing, Senator Biden must be delighted … with the halo effect that suggests that he is one public official politically active women can trust," Warren wrote in a 2002 Harvard Women's Law Journal article.

Biden recently met with Warren — seen by many as wielding a powerful endorsement in the Democratic primary race — as he considers launching a presidential campaign.
Warren, who was elected to the Senate in 2012, has become a leading voice for the liberal wing of the Democratic Party. In 2002, years before her political career began, she criticized then-Sen. Biden (Del.) as siding with big credit card companies over working-class women in the debate on bankruptcy reform.

[…]

The International Business Times first reported on Warren's criticism of Biden in the law journal.

Warren also questioned at the time whether Biden believed women were financially literate enough to understand what was in their interest.



[…]

In a 2003 book, co-authored with her daughter, Warren also wrote that "[s]enators like Joe Biden should not be allowed to sell out women in the morning and be heralded as their friend in the evening." […] (Click here to read the rest.)
Uh huh. It is true what they say about politics making strange bedfellows. And how.
As bad as the Warren/Biden tete-at-tete was/is, Donald Trump sucking up to Rep. Nancy Pelosi then running as a Republican is worse. In my opinion, that is.
Meanwhile, late in the evening, there was a huge email dump of over 7,000 emails from Hillary Clinton's time at State. And oh, is this not looking at all good for her. From Fox News:
The State Department released thousands of pages of Hillary Clinton's emails Monday night that a department spokesman said contained 125 messages with material now considered classified.

State Department spokesman Mark Toner said the emails in question were "subsequently upgraded" to classified. He stressed that none of the emails was considered classified at the time.

However, the sheer number of emails that have been redacted stands as the latest example of how much sensitive material was contained in Clinton's email transactions. The FBI is conducting an investigation into whether classified information that passed through Clinton's so-called "homebrew" server was mishandled. Clinton, the Democratic presidential front-runner, has repeatedly denied any wrongdoing.

The emails with redacted sections discussed global issues in countries from Haiti to China to Sudan.

One April 2010 email from Clinton's top aide Huma Abedin containing a report from then-ambassador to China Jon Huntsman was redacted entirely, while a message from that September about "calls" Clinton said she was willing to make regarding trilateral talks over Sudan was likewise blacked out. […] (Click here to read the rest.)
To give you an idea of why this is so, so serious, Catherine Herridge explains it all below:
Ruh roh. From what Herridge said, there seems to be little doubt that Clinton should be in big trouble. I say SHOULD be because, well, you know – some people are not held to the same standards as others. I reckon we'll see on this. But the bottom line is, this is extremely serious, whether Clinton wants to acknowledge it or not.
Seems she and The Donald have quite a bit in common, don't they?
At least that's what I think. How about you? This is an Open Thread.
Tags: Ben Carson, Donald Trump, IRS, Lois Lerner, Rep. Nancy Pelosi, Sen. Elizabeth Warren, VP Joe Biden