What happened in San Bernardino, CA, yesterday was a heinous act carried out, presumably, by radical Islamic terrorists. I say that not just because they were armed to the teeth, and wearing body armor, but because their house was an "IED Factory," with pipe bombs, remote controlled cars with bombs, and more. That is the home of terrorists, if you ask me. I don't see how else it can be construed.
In any event, these Muslim killers left 14 dead, and 17 injured, many critically. It is a horrible event, and one Democrats, beginning with President Obama, IMMEDIATELY used for political gain. Again. The bodies were literally not even cold yet before Obama started on his gun control rant. How unbelievably offensive that the President of the Untied States continues to use these attacks and tragedies to push his political narrative. It is appalling.
As is the response of Democratic US Senator, Chris Murphy, of CT. When I saw this headline at The Hill this morning, I was stunned: "Dem Senator Criticizes Post-Shooting 'Prayers'." Are you KIDDING me with this?? Sadly, the answer is no. From The Hill:
Sen. Chris Murphy (D-Conn.) says people who pray for the victims of shootings should be asking for forgiveness for their inaction.

Murphy made the comments in a post on Twitter after reports of a mass shooting in San Bernardino, Calif., where authorities say at least 14 people were killed by as many as three gunmen.

Several GOP primary contenders quickly expressed their condolences for the victims and said they were praying for their families.

"Your 'thoughts' should be about steps to take to stop this carnage. Your 'prayers' should be for forgiveness if you do nothing – again," Murphy tweeted on Wednesday evening.

Murphy drew criticism from users on Twitter who said his remarks were "offensive" and demeaning toward religious people. […] (Click here to read the rest.)
First of all, Sen. Murphy, prayer IS action. It is an active endeavor, and one REQUESTED by those caught up in the shooting, I might add. To attack people of faith for turning to prayer at such a terrible time, and to sanctimoniously proclaim to them they are doing nothing, apparently defined by this Senator as not doing what HE wants people to do, with so little information, is astonishing all on its own. To make this about gun control at that time rather than working to bring people together speaks volumes about Murphy AND Obama, none of it good.
After seeing that article and having my blood pressure shoot up, I read this excellent piece by Mollie Hemingway from The Federalist. I cannot reprint the entire thing here, and I strongly encourage you to read it in its entirety, but here are some highlights from Hemingway's piece:
[…] Progressive and liberal politicians called for gun control. And other politicians prayed for the victims and their families while waiting for more information.

That's when things got super weird. For some reason, much of the media began mocking the efficacy of prayer. This was happening while victims of the shooting were actually asking people to pray. I mean, the critiques were everywhere. An editor at ThinkProgress said, and I quote, "Stop thinking. Stop praying." There's a bumper sticker for you!

Here's how The Huffington Post put it:

Stunning. "Public officials are the people society trusts to solve society's ills?" Their "useless" thoughts and prayers?
How very telling are these comments? And they got worse, especially the NY Daily News headline attacking REPUBLICANS for PRAYING instead of the people doing the killing: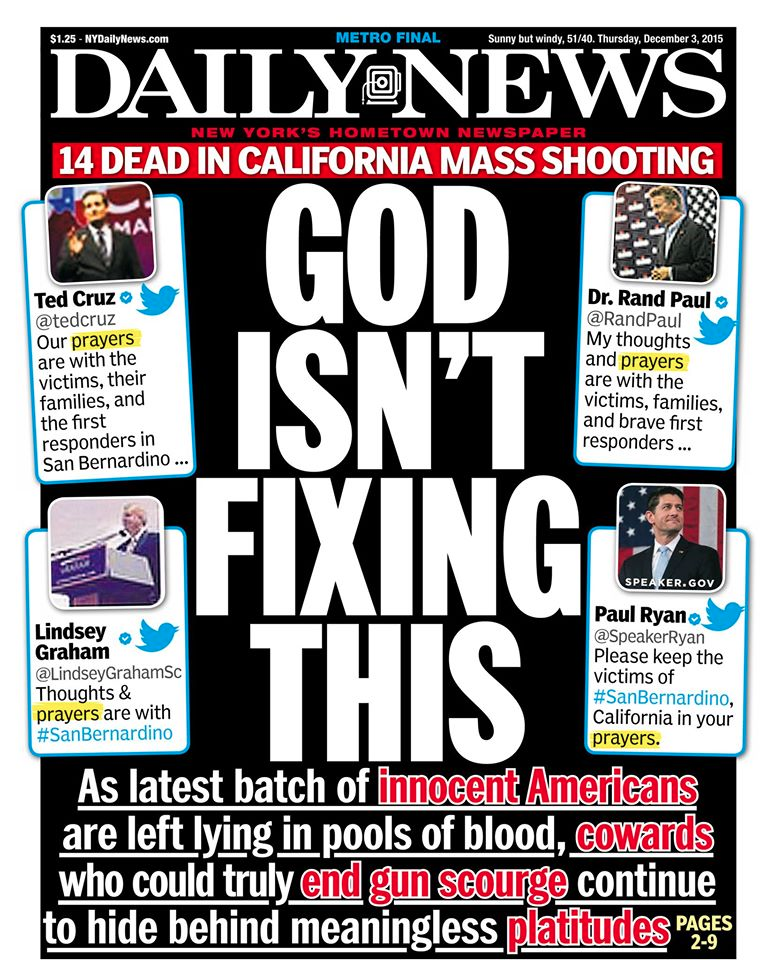 Holy smokes, what the hell is WRONG with these people? They are attacking people of faith who turn to prayer at these difficult times, berating and denigrating them. Meanwhile, these same people,"journalists," fail to highlight the difference between turning to prayer and turning to guns, IEDS, and terror. But yeah – the GOP is the problem here. Right.
Back to Hemingway's piece:
[…] Now, many gun control advocates said they weren't disparaging prayer — however much that was exactly what was going on — so much as calling for other action. It's good to remember that prayer is action. But whether your God is God or the FBI (or whatever agency you hope will seize up to 300 million guns in the country), it's also true that there is no conflict between praying to God, who, as the Founders put it, creates us and endows us with certain inalienable rights, and other action. That could be working within a community to change people's hearts and minds from violent ideology. It could be working with your neighbors to help them avoid choices that lead to dangerous social isolation. It could be teaching Sunday School or otherwise inculcating children in the faith. It could be managing your family well. It could be gun control or efforts to help families with adult members with mental illness. It could really be any number of things.

What's wise is to understand that there are many options for working to improve society. If, like so many journalists, your particular religious denomination is the one that's fundamentalist on gun control, fine. But understand that not everyone is part of your religious sect or shares your assumptions.

The bizarre outpouring from journalists of anti-Christian sentiment yesterday was not becoming. And some of it was downright alarming. But consider that many journalists didn't really understand what they were doing. They are bad at understanding the religious practices of much of the country, of course. But they're not particularly good at understanding their own theodicy and its attendant rites and rituals either. (Click here to read the rest.)
No, they most definitely are not at understanding their own theodicy, something Hemingway goes into detail about in this piece. And they also seem blind as bats to their hypocrisy, arrogance, patronizing, and intolerance, too.
Before I close this, I want to highlight another frequent target of many lefty journalists these days. That would be the Police. Their quick action is worthy of accolades all on its own, but I think this video embodies what it means to be a police officer, and what these brave men and women do for us every single day. Hat Tip to BizPacReview:
Exactly right – that is what police officers do. And they deserve our support and appreciation, not anger and hatred.
There is no other way to close this out except this: my prayers are with the families who lost their loved ones during this terrorist attack, and to those who were injured. I pray that their wounds will heal quickly, physical, emotional, and spiritual. I pray, and am thankful, for the First Responders who got there so quickly, and were able to take out the terrorists without any others being lost. And I pray for this Nation that we will have leaders who seek to lead us, not divide us.
This is an Open Thread.
Tags: Democrats, FBI, First Responders, GOP, Police Officers, President Obama, radical Islamic terrorists, Sen. Chris Murphy