I looked at a calendar and realized that it was only a week ago that Trump became the "presumptive" nominee of the Republican Party. Only last Tuesday night did Ted Cruz suspended his campaign. Followed the next day by Kasich who realized that he'd done all the damage to Cruz that he could so he might as well get out. No more votes to split and help Trump. Only a week. It seems like forever.
I  thought that after all the changes that 2008 brought to my life this would be a rather cut and dried election cycle for me. I'm trying to figure out how I could have been so wrong.  Only consolation is that everyone else was wrong too.
This is an unprecedented election. It is now the turn of those on the right to act like fools and become members of a cult of personality. I would not have believed that having seen the insanity of the Obots that anyone on the right would emulate them. Again, I was wrong.
In January 2008 I was a Democrat.  Often an unhappy Democrat and  often feeling out of step with the Democrat Party. I was still convinced that the Dems were the better choice. Then they showed me, and millions of others that they were not only not the better choice but that they were worse than those that opposed them. Corruption oozed from their pores with the advent of Obama and many of us left the party.
Some became Republicans but I felt that wasn't a good fit for me so I became an Independent. I still am. I owe my allegiance to no party and that's the way I want it to remain. I have more access to information that ever before in my like and yet I am often befuddled and confused. Not confused enough to become a member of a cult. No confused enough to ever be fooled by Donald Trump.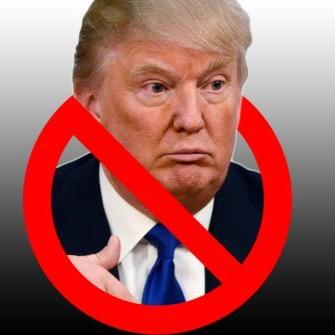 I thought that once the Republicans fielded their candidates there would be an easy choice and that any if not most of them could/would destroy Hillary Clinton. I once supported Hillary  but Benghazi changed that. I now found her abhorrent.   Many of the things I once believed about Hillary Clinton turned out not to be true. I still would vote for her over Obama but that's not an accolade for her it's a brickbat for him
And who could have guessed that I would witness what ultimately may be the death of the Republican Party. A suicide by Trump.
My first choice was my own Governor, Scott Walker. A good man. A solid man. A decent man. And a really lousy campaigner. Exit Governor Walker rather quickly.
The field was still large – too large in my estimation and I next decided to support Carly Fiorina. A perfect foil IMO against the Clinton woman card. A good solid candidate in my estimation. I liked Carly. Then she exited. And I then there was my 3rd and final choice, Ted Cruz.
I had always liked Ted Cruz but given the constant drumbeat of hostility the media aimed at him I didn't think he had a chance. He gave it one hell of a run but in the end lies, innuendo, smear tactics and an unwavering negativity from the media did him in.
Plus an electorate  with enough stupid, foolish  and indecent people who would prefer a 70 year old vulgarian buffoon with the maturity of a toddler. A foul mouth, immoral and dishonest reality show clown who isn't fit to run a lemonade stand.
Do I sound angry? You bet I am. We had a real chance to turn this country around and back to what it was always supposed to be. We had a real chance to have someone in the White House that believed in the Constitution and would keep his oath to uphold it.
Now Donald Trump is our presumptive nominee. Not my choice and not a man who will ever get my vote. He has shown in this one short week that he doesn't' deserve it and indeed has said he doesn't need it.
Yet the Trumpanzees swarm and continue to call names because some of us refuse support this inferior man. Does this mean we're fired? I certainly hope so because I do not want to be associated with this mountebank or the fools that support him.
In just one short week Trump has stuck his foot in his stupid mouth so many times I've lost count. He's lied, spun, flip-flopped, obfuscated, whined and generally made a total ass of himself. All the while his clueless followers mindlessly trot along behind never wavering  in their adulation. It honestly doesn't seem to penetrate their besotted brains that sometimes, oftentimes, most of the time, the things he says are gibberish.
One week ago he became the presumptive nominee of the Republican Party. And that party, that was not healthy, began it's death march. Perhaps it can survive Donald Trump. Or perhaps he will lose the election as most of us think he will.
Neither he nor Hillary will get my vote. I have a conscience. I have morals. I have integrity. I have values. He has none of those things. Evidently that doesn't' matter to the Trumpanzees. It matters to some of us. It matters a lot.
Tags: Carly Fiorina, Democrats, Donald Trump, Gov. John Kasich, Gov. Scott Walker, Hillary Clinton, President Obama, Republicans, Sen. Ted Cruz