Some of you know that my hometown is Charlotte, NC. My family has been in Charlotte for centuries. My forebears signed the first declaration of independence in this country in 1775, the Mecklenburg Declaration of Independence. I have siblings who live there, nieces and nephews, and their children, who live there.
All of that is to say, what is going on in Charlotte right now affects my family, and it affects me. To say I am upset at what is happening in the city in which I grew up, my father grew up, and his family before him for generations, is an understatement.  It is disconcerting in the extreme. I am sickened that the Black Lives Matter Mentality has now turned my city into a raging inferno. Check that: I am PISSED. OFF.
Yes, once again, a black man has been shot by a police officer, this time a black officer in Charlotte. The level of anger and violence has reached a level that is WAY out of proportion, especially considering that preliminary information I have seen indicates that this was a RIGHTEOUS SHOOT.
Here's the thing. If you want to make SURE you get shot by a police officer, no matter your skin color, grab a hand gun, get out of your car, and  refuse to drop it. If you think you are NOT going to be shot as a result, you are a moron. But then again, grabbing a handgun and getting out of your car when a bunch of cops are in the midst of carrying out their duties and you refuse to drop it when ordered is already proof positive of what a moron you are.
I honestly do not know what the hell these people who are rioting, looting, throwing objects off the Interstate overpasses (more on that below), and worse, think should have happened in that instance. That the police officers ALLOW themselves to be shot lest they injure or kill a young black man out to do them harm? Is THAT what they think they should do? Is that what THEY would do? Hell NO! They would DEFEND THEMSELVES. And that is EXACTLY what the police officers did.
Not for nothing, but once again, this man was hardly an angel. Scott lived down here in the Lowcountry for a while, and racked up a number of arrests and convictions, including having sex with a minor, as well as assault with a deadly weapon, among other charges.  And not just in SC, but NC, and in Texas as well, where he was "convicted of aggravated assault with a deadly weapon,"which, as this Federalist article highlights, made it ILLEGAL for him to possess a firearm. Once again, the "victim" was someone who had a lengthy criminal record to go along with his actions that fateful night.
And just like in some other cities across the country, these rioters shut down a major interstate, I-85. But that isn't ALL they did. No, they were THROWING ROCKS  an other projectiles at cars and trucks from an overpass. Listen to the GLEE from these terrorists (as Pat Dollard referred to them in this piece which has more on what happened to these motorists), as they attacked these unsuspecting motorists:
That is indeed terrorism. They could have killed people doing this, not to mention cause major traffic accidents.
But that isn't even the worst of it. I can barely even write about this next story because I am sickened and angry as hell about it. Okay. Here it is: these barbarians tried to throw an UNCONSCIOUS photographer INTO A FIRE. Here is a photo from the WCCB (local Charlotte news station ) Tweet from last night: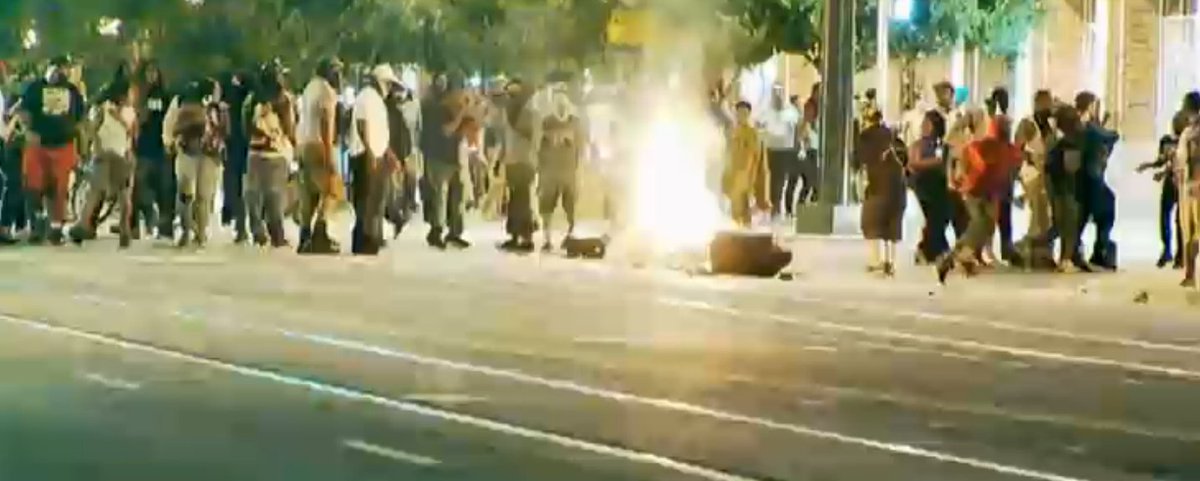 There is a video in this Right Scoop article of the photographer being dragged to the fire, and the rescue of him by both police and civilians. If it becomes available on Youtube, I will add it, but for now, you can look at it HERE.
Honestly, it had me in tears at the depravity of it all, of the sheer callous disregard for human life. And to be honest, it reminded me of the kinds of horrors ISIS terrorists perpetrate. That is how despicable I find this behavior to be.
Let's make one thing clear: these are not PROTESTERS. They are RIOTERS, LOOTERS, THIEVES, and CRIMINALS. Take a look through the Twitter feed HERE for Time Warner Cable News in Charlotte to see what has happened there – businesses broken into, Bank of America downtown broken into, and on it goes.
I cannot believe this is my home town.
Charlotte has been a jewel of the South for some time. We were the ones who introduced busing back in the day to integrate our school systems, and were VERY successful at it. We were so successful, in fact, that Boston asked for help on how to do just that there. Well, it never worked in Boston, but it sure did in Charlotte.
I cannot recall a time growing up in Charlotte that I was not around black people. From my grandmother's little country store whose patrons were largely black, to the Episcopal Church I attended growing up and which sponsored me for ordination. The Charlotte in the news today is NOT the Charlotte in which I grew up, a reality that, again, makes  me angry as hell, and extraordinarily sad.
This whole BLM movement incites violence against not just police officers, but white people. It is a hate-filled, racist group which has received unprecedented support from the highest office in the land, the Presidency of the United States. When Obama invited BLM leaders to the White House, and not just once, when he sent White House aides to Michael Brown's funeral, and when he gave credence to the claims of oppression an disproportionate deaths of black men by police levied by NFL Quarterback, Colin Kapernick, he made clear just who it is he is supporting: Black Lives Matter.
That support has resulted in their thinking they are above the law, they can destroy private and public property, they can endanger the lives of citizens and police officers, and generally run riot with very little comeuppance. That is an affront to a civil society.
And the very premise of BLM is based on lies. So once again, here are some facts regarding the deaths of black men by police officers and other stats. From the NY Post:
[…]

The facts are these: Last year, the police shot 990 people, the vast majority armed or violently resisting arrest, according to the Washington Post's database of fatal police shootings. Whites made up 49.9 percent of those victims, blacks 26 percent. That proportion of black victims is lower than what the black violent crime rate would predict.

Blacks constituted 62 percent of all robbery defendants in America's 75 largest counties in 2009, 57 percent of all murder defendants and 45 percent of all assault defendants, according to the Bureau of Justice Statistics, even though blacks comprise only 15 percent of the population in those counties.

In New York City, where blacks make up 23 percent of the city's population, blacks commit three-quarters of all shootings and 70 percent of all robberies, according to victims and witnesses in their reports to the NYPD. Whites, by contrast, commit less than 2 percent of all shootings and 4 percent of all robberies, though they are nearly 34 percent of the city's population. […] (Click here to read the rest.)
Perhaps the reason BLM is on the offensive is a smoke-and-mirrors strategy to deflect questions about WHY these statistics are what they are. Just a thought, because they are disproportionately represented in terms of perpetrators of crimes. That isn't racist, that is a fact. And it is far past time we acknowledge the FACTS and stop relying on the rhetoric.
I hope it is not too late for Charlotte. I hope it is not too late for the country. But something needs to change, and now.
That's what I think. How about you? This is an Open Thread.
Tags: Black Lives Matter, Charlotte, Colin Kapernick, President Obama