I love cartoons. I have always loved cartoons. When I was a kid I loved my Marvel Comic Books and now in my second childhood I love my political cartoons. Can't get enough of them.
Every day I set out to harvest cartoons to share. Sharing cartoons is great because anything is funnier and more fun when it's shared. LOL alone is fun – LOL with others is funner. I don't think that's a word but you know what I mean and I love to give my spell check indigestion.
Take the cartoon below – I could write something of 2-300 words, or more, about how obsessed CNN is with Donald Trump's every word and deed. It wouldn't express the idea nearly as well as this one cartoon with only a few words.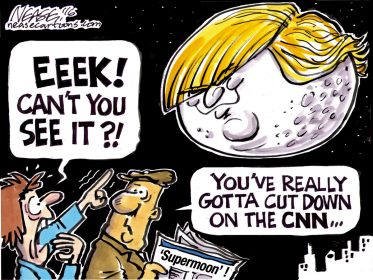 There are few topics that can't be covered in a cartoon. When you have one cartoonist with a bee in his/her bonnet about a topic the whole string of cartoons tells a wonderful story.
We need to always remember that the story being told, in one cartoon or many, is simply the opinion of the cartoonist. Sometimes it's easy to lose sight of the fact that a cartoon is simply that particular cartoonists view of events – especially when it's a brilliant cartoon and when it reinforces our own opinion.
Right wing cartoonists lampoon the left and Left Wing cartoonists lampoon the right. Just like the MSM. And just like the MSM there are far more on the left than on the right. The right may not have as many cartoonists but they have some of the best in the business.
Some of my favorites include:
Michael Ramirez is brilliant. Simply brilliant IMO. I love his cartoons probably the most of all. I say that and then I see something equally brilliant from Gary Varvel or A.F. Branco and then I'm back to having a dozen favorites. Let's just say that Ramirez never is less than stellar.
Glenn McCoy has an acerbic wit I like.
Lisa Benson's cartoons have a certain charm mixed with her gentle wit. I like her a lot.
Don't you love the simplicity of Eric Allie's explanation of college costs?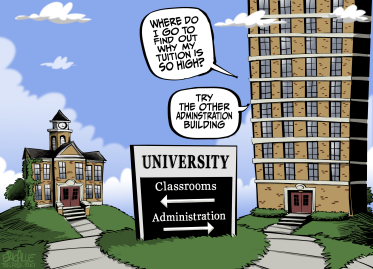 Dana Summers is so great. His cartoons always get to the heart of a subject and usually make some liberal look foolish. Just like he does in the one below. Rahm Emmanuel is reportedly a very smart man – how could he have said something so stupid?
Steve Kelly is another favorite of mine. He usually tells interesting little stories with his cartoons. I like that. A lot.
Steve Benson is really good and I particularly like this timely cartoon…  There goes that cartoon expressing my opinion again thing. Like many cartoonists center and right, Benson is not a Trump fan. And like many he is not a Steve Bannon fan.
Jerry Holbert is another really good cartoonist. No collection of cartoons would be complete without one of his.
No discussion of cartoons and cartoonists would be complete without A.F. Branco. His cartoons can be found everywhere but originate at Legal Insurrection.
There was a time when I loved everything he did. Then he became a Trump supporter and I skipped a lot of his cartoons. They were probably still brilliant but they did not reflect my opinion. Many still don't. But the one below certainly does:
I'm sure you all have your own favorite cartoons and cartoonists. Share. Laughter, a giggle, a quiet chuckle, they will get us through. And cartoonists can help with that.