Every day is another exercise in confusion for me. I often wonder if the world has gone crazy or if I have. I've been down the rabbit hole so often the rabbits know me by name.
I have no doubts about the media – they have absolutely gone crazy. They were so sure that their gal Hillary would be the next president that they cannot contain their outrage at being wrong.
They gave Donald Trump millions, if not more, free advertising to help him defeat his opponents in the Republican Primary. They were so sure that the Dowager Duchess of Chappaqua would win that I'm sure the champagne was all ready on ice. Then she lost.
She lost the election because of the way our "Republic" operates – she won the
popular vote but lost in the electoral college where it matters. Only in a pure Democracy – AKA mob rule, does the popular vote win.
If you take away the votes cast by who knows who from who knows where in the People's Republic of California she would lose. the popular vote. Even with the help of two other large blue states, New York and Illinois she didn't win.
Remember when the media was laughing at Trump for going to Wisconsin, Michigan, and Pennsylvania as the campaign was winding down?  He who laughs last…
The heartland and the south was having none of Hillary. No more Bushes they had cried in the primary and no Clinton – especially this Clinton in the general election. In fact they rejected the politicians completely and went for the unknown, nutty as as fruitcake, sleazy businessman. Something new and different. That's an understatement if there ever was one.
So the media got it's way, having worked their evil plan, they got the candidate they wanted. They got Trupm to run against their unpopular Hillary. And she lost. The sound of exploding heads was louder than the popping of champagne corks would have been if she's won.
The rage was palpable. The tears were visible on many Democrat faces. They should all have signs on their desks like the one below…
Maybe they could even have t-shirts made. Maybe not, their pals the protesting terrorists attack anyone wearing a MAGA hat imagine what they would do to someone wearing a t-shirt like that.
The fact that veteran news people visibly cried on camera is disgusting. It is disgusting but it was also very revealing – they outed themselves and thus everything they have said and done has been regarded as suspect by everyone except the stupid and the gullible. Which includes the base of the Democrat Party and many #NeverTrumpers who cannot and will not let go of their anger about the outcome of the primary. At least the Dems complain about the general election.
While the left showed outrage and sadness surprise was the most common expression on many Republican faces. They had been told he couldn't/wouldn't win. Could the pundits be wrong? Had they and their arrogant expertise missed the mark? He won?
The leftist tears quickly turned to rage. First they didn't get to wax poetical about the "historic" presidency of a woman. Second they all looked like fools. They hadn't hemmed and hawed about her winning – they had damn near guaranteed it. What now?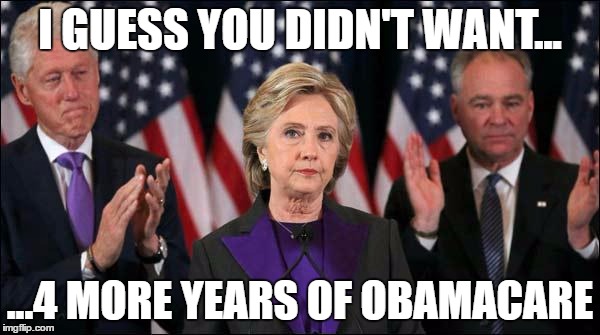 What it turned into  was a monumental temper tantrum. I say monumental because it is still going on. After three and a half months you would think they would swallow their disappointment, take a deep breath and get on with life. No. Instead they came up with a new plan.  A new and evil plan to get rid of Trump.
One genius newsie or celebutard, I forget which and they really are interchangeable, suggested that Trump and Pence should be impeached and then a special election could take place and Hillary would win this time. Huh? Are they really that ignorant of how this government works?
If they did manage to impeach Trump and Pence, what crime they've committed other than winning has yet to be proven, then Paul Ryan as Speaker of the House would become president. Special Election? WTH is wrong with these fools?
Evidently the fact that president are elected by the votes in the electoral college and not by the popular vote was a complete surprise to many of these clowns.
Even the mostly mummified Ruth Bader Ginsburg woke up long enough to inform us that she thought the time had come to rid ourselves of the Electoral College. Does the fact that this woman is on the Supreme Court of the United States not concern anyone?
Now there is a determination by the Media and the Democrats, once again in cahoots. to bring down the Trump presidency.  They always collude to make the right look bad but this goes way beyond that.
The leaks that led to the resignation/firing of Trump's National Security Advisor General Mike Flynn are very troubling. Like Trump or not this is wrong.
Even many on the right seem to care little about what is basically an attempt at a coup because they don't like Trump. If it was any other Republican, even a RINO, in the White House being subjected to this they would be outraged. Instead they yawn and many, the smart ones, simply stay quiet, while the others, the rabid #NeverTrumpers sneer and say he's nasty man and deserves it. Guess they don't care half as much about their country as they do about their grudge because their choice lost.
So much of the time I SMH and mutter WTH. Sometimes I'm angry, sometimes perplexed and often affronted at the absolute malignancy of some people.
I didn't want Donald Trump to be president. Big Deal. I don't rule the world. Get over yourselves you adolescent pinheads and hope, as I do, that this deeply flawed man will do some good things. Be happy when he does good things, Mattis, DeVos, Sessions come to mind and complain when he doesn't. But for Heaven's sake quit whining!