3 Attacks On Donald Trump That Also Make The Media Look Bad
By Mollie Hemingway
In the ongoing war between Donald Trump and the media, some of the media's attacks boomeranged right back onto themselves.
---
Oscars DISASTER: Academy Announces The WRONG Best Picture Winner…
Host Jimmy Kimmel (who spent most of the evening looking for opportunities to slam Trump) tried to diffuse the situation through self-deprecation, saying, "I blame myself for this. Let's remember, it's just an awards show. I mean, we hate to see people disappointed, but the good news is we got to see some extra speeches. We have some great movies. I knew I would screw this show up, I really did. Thank you for watching.
I'm back to work tomorrow night on my regular show. I promise I'll never come back. Good night!"
http://www.dailywire.com/news/13882/oscars-disaster-academy-announces-wrong-best-james-barrett
Perhaps more time spent on the awards and less on politics would have avoided this disaster. Then again, probably not.
---
Viola Davis Gives Self-Important, Tearful Speech: 'We Are The Only Profession That Celebrates What It Means To Live A Life'
By Ben Shapiro
On Sunday evening, actress Viola Davis won the Best Supporting Actress Oscar for her stellar performance in Suicide Squad. Oh, sorry, for her stellar performance in Fences. She then gave a speech that had the media gushing. The Washington Post called it "amazing." Huffington Post said it stole the show. It prompted tweets like these:
Viola Davis' acceptance speech for Best Supporting Actress deserves an Oscar itself #oscars http://buff.ly/2mudYup

I want Viola Davis to put her finger under my chin and lift my head up and give me a speech about how I can do anything I want in life
So, what did she say? Here was the important part:
Thank you Academy. You know, there's one place that all the people with the greatest potential are gathered. One place. And that's the graveyard. People ask me all the time: 'What kind of stories do you want to tell Viola?' And I say exhume those bodies. Exhume those stories. The stories of the people who dreamed big, and never saw those dreams to fruition. People who fell in love and lost. I became an artist and thank God I did because we are the only profession that celebrates what it means to live a life.
Art is wonderful; art is enriching; art can connect us with each other. But the utter arrogance of stating that artists are "the only profession that celebrates what it means to live a life" is astounding. How about doctors? How about stay-at-home mothers, who help shape lives rather than pursuing their own career interests? How about morticians? How about pretty much everybody in a free market economy, giving of themselves to others to improve lives?
http://www.dailywire.com/news/13885/viola-davis-gives-self-important-tearful-speech-we-ben-shapiro
---
---
Trump Derangement Syndrome: The Mental Health Edition 
By Rick Moran
This is literally and figuratively crazy.
The Los Angeles Times is reporting that some mental health professionals are complaining about clients who are suffering from various physical maladies as a result of their paranoia over Donald Trump's presidency. They are saying that there hasn't been this much anxiety in their patients since the September 11 terrorist attacks.
How much of the paranoia and hysteria is transferred from these mental health professionals to their patients? Just who is it that needs therapy more? Mental health workers or their patients?
What is driving the anxiety is what Trump might do or could do — not what he's already done. And blame for that rests squarely in the minds of liberals who seemingly with each passing day generate an increasing level of hysteria about the administration that is not only unprecedented, but extraordinarily dangerous.
Trump may eventually live down to the fears and anxieties of the left about his presidency. But exaggerating what the president has done and expressing in doomsday rhetoric  what's in store for America only make Trump's opponents appear loony. They are inadvertently damaging their own credibility with these apocalyptic predictions about how evil and horrible Trump is.
---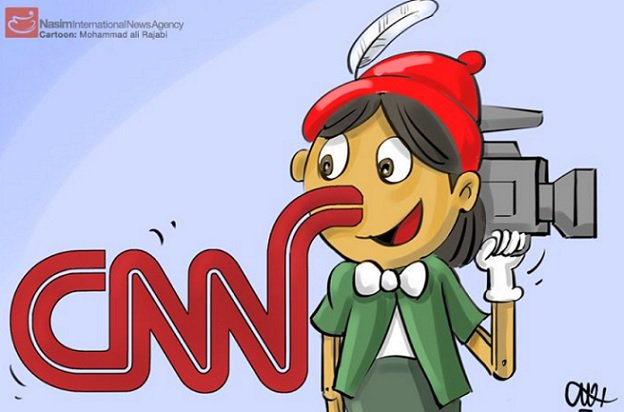 ---
The Great Press Wars: Gagglegate Hits CNN and the NY Times
You would think that after suffering a month of public humiliation for their obvious preferences in an industry where none should exist, members of the political media set would embark on an introspective journey, perhaps mull how they ended up being dubbed an "enemy of the American people." Instead, the opposite has happened — the press corps continues to make themselves the martyr, perpetuating, instead of ending, the battle for neutral reporting.
So out of touch are they that the Editor-in-chief of Reuters had to specifically instruct reporters in this frightening, new post-Obama world to, "get out into the country and learn more about how people live, what they think, what helps and hurts them, and how the government and its actions appear to them, not to us." They should've been doing exactly that all along.
The self-involvement of the political media is exactly why the average American is likely to side with Trump in the Great Press Wars.
http://legalinsurrection.com/2017/02/the-great-press-wars-wh-excludes-some-establishment-press-from-gaggle/
---
Liberal Protesters Disrupt Opening Prayer, Pledge of Allegiance at Republican Town Hall
Liberal protesters yelled throughout the opening prayer and Pledge of Allegiance on Wednesday during Sen. Bill Cassidy's (R., La.) town hall meeting in Metairie, La.
Cassidy scheduled the town hall to discuss various issues including immigration, health care, and the economy. However, many people in the crowd would not listen to Cassidy, and instead heckled him and yelled out slogans commonly heard at anti-Republican rallies.
Before Cassidy addressed the crowd and took questions, Louisiana State chaplain Dr. Michael Sprague announced that he would begin the prayer. As soon as he said "prayer" the crowd erupted.
Several people could be heard yelling, "Prayer? Prayer?" while other people yelled, "Separation of church and state."
http://freebeacon.com/politics/liberal-protesters-disrupt-opening-prayer-pledge-of-allegiance-at-republican-town-hall/
I expect that these "protestors" are very proud of themselves for disrupting this townhall meeting. That's because they just want to disrupt. I doubt any of them voted for Cassidy and now they are just present to get their ugly mugs on camera, tell their tale of woe or just act like jerks.
---
Michael Goodwin: Trump's State of the Union speech is going to be wild
In advance of President Trump's first State of the Union speech, random busybodies are urging him to tone it down. One adviser from the bleachers suggests he be "humble and inclusive."
Sweet, but I'm betting humble pie is not on the president's menu. On the contrary, Tuesday night in the Capitol is likely to be a shock-and-awe blowout of pure Trumpism.
The idea that Trump must go mild has been a staple of the punditocracy since he announced his candidacy. That it still holds such a prominent place in his second month in the Oval Office reveals what slow learners media liberals are.
http://nypost.com/2017/02/26/trumps-state-of-the-union-speech-is-going-to-be-wild/
---
---
The Oscars ceremony was a festive night of Trump bashing headed by host Jimmy Kimmel who never missed a chance to get in a cheap shot.
Hollywood is a tough town. Caitlyn Jenner had to win the Olympic Men's Decathlon, father four Kardashians, change sexes and get a boob job before she could look Hollywood in the eye and admit she was a Republican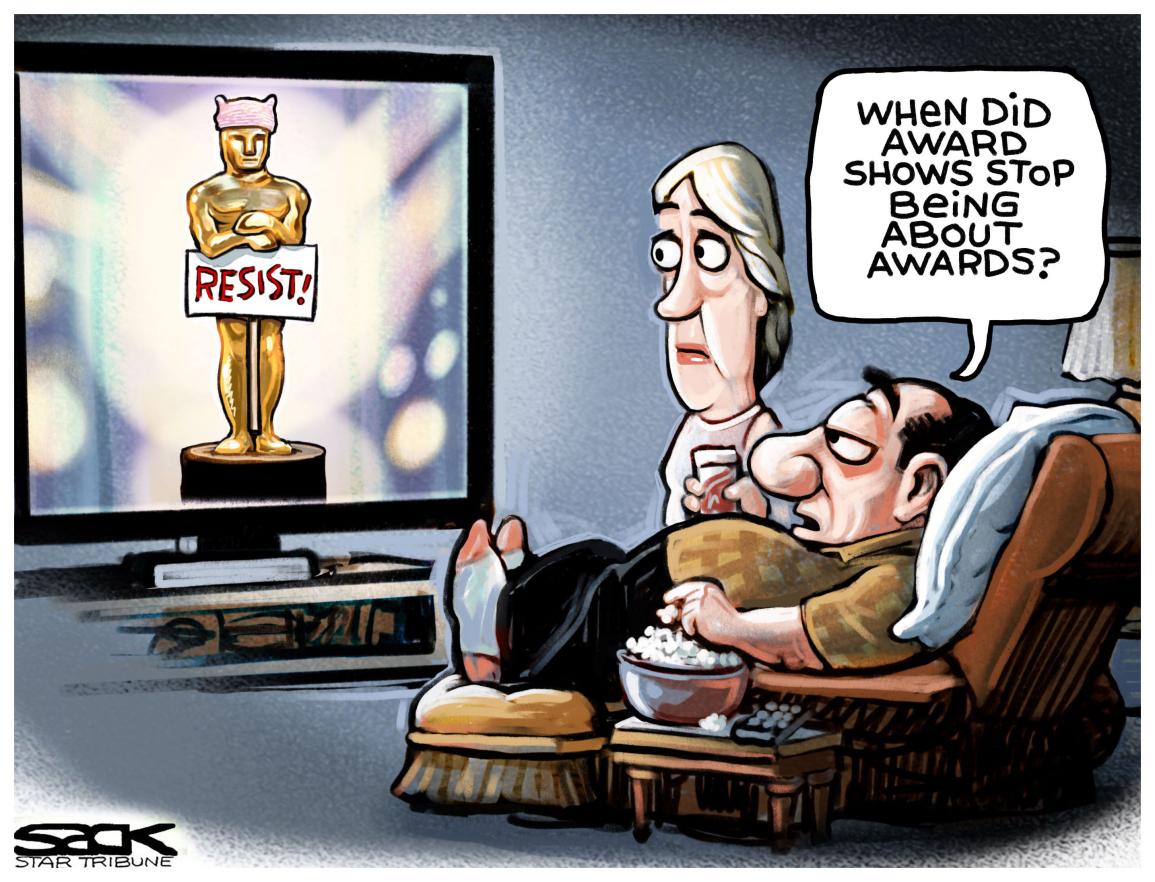 ---
Trump Roasted at Oscars
We can always rely on awards season to be a self-congratulatory parade of beautiful and talented people reflecting on how beautiful and talented their friends are, but this year, the circuit has also been pretty consistent in calling out President Donald Trump and his actions since taking office. The 2017 Oscars were no exception.
Jimmy Kimmel keeping it classy:
Everyone in the room should feel proud of simply being at the Academy Awards, "Some of you will get to come up on this stage tonight and give a speech that the President of the United States will tweet about in all-caps during his 5 a.m. bowel movement tomorrow, and I think that's pretty darn excellent."
http://www.libertyheadlines.com/trump-roasted-oscars/
---
White Ex-Professor who Claims She's Black Can't Get a Job
The uncertainty about her own race is apparently not the only problem facing Rachel Dolezal these days.
The former college professor and head of the NAACP in Spokane, Washington, who is white but claims she is black is now reportedly living on food stamps, and has only been offered work in reality TV and pornography.
http://www.libertyheadlines.com/white-ex-professor-claims-shes-black-cant-get-job/