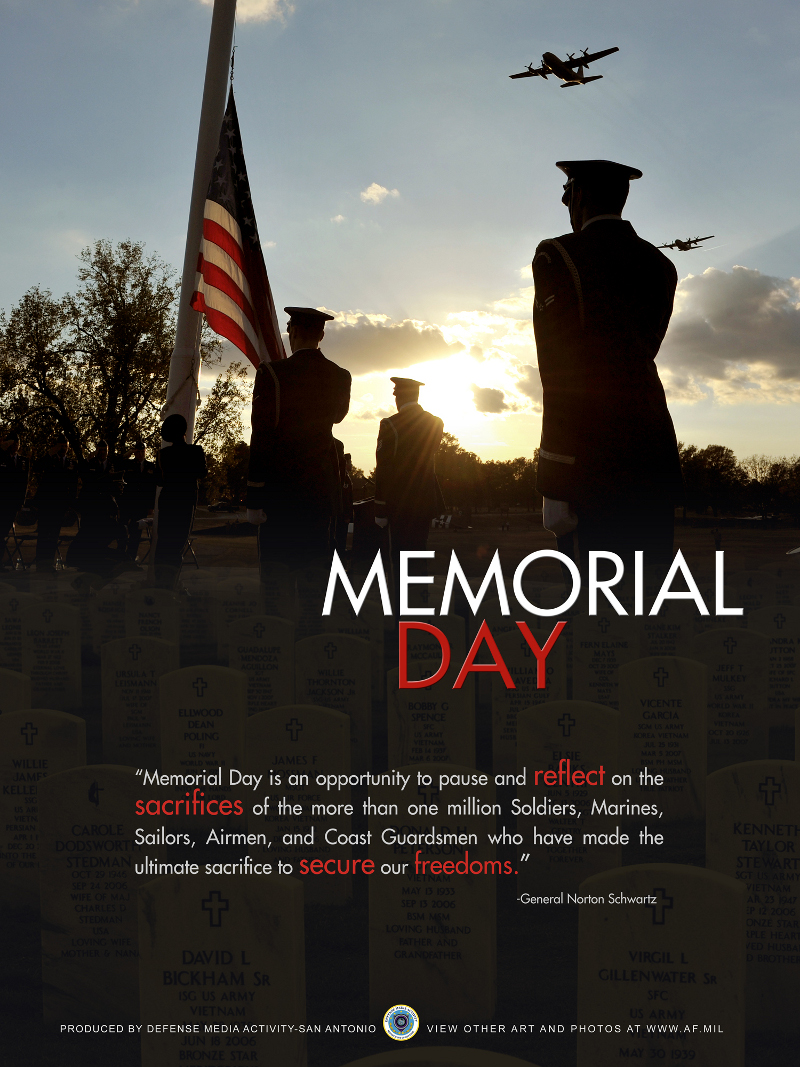 This coming Monday we honor those who paid the ultimate price for our nation, and for those veterans who served who have now passed on. It is an important day, or should be, an opportunity to take a moment and reflect upon those who put their lives on the line for our nation, and others as well.
As we know, these days, too many see this weekend as the kickoff to Summer, as an opportunity to get some good sales, or to have cookouts. It is so much more than that, as this veteran highlights. From HuffPo:
Memorial Day for military members is a somber day. It is a day to reflect on friends lost, comrades who gave the last measure for the cause of freedom. We reflect on how God has guided us through battles, storms and driving wind. How God has allowed some us to remain to proclaim the honor of our fallen friends, wounded nonetheless but still here.

[…]

When you pray on Memorial Day you should pray with the intent of remembrance and thankfulness. Before you go out and barbeque or hit the beach I want you to offer a prayer for our fallen military heroes and their loved ones. The following is a beautiful Memorial Day prayer by a colleague in ministry Austin Fleming.

Shall we pray?

In the quiet sanctuaries of our own hearts,
let each of us name and call on the One whose power over us
is great and gentle, firm and forgiving, holy and healing …

You who created us,
who sustain us,
who call us to live in peace,
hear our prayer this day.

Hear our prayer for all who have died,
whose hearts and hopes are known to you alone …

Hear our prayer for those who put the welfare of others
ahead of their own
and give us hearts as generous as theirs …

Hear our prayer for those who gave their lives
in the service of others,
and accept the gift of their sacrifice …

Help us to shape and make a world
where we will lay down the arms of war
and turn our swords into ploughshares
for a harvest of justice and peace …

Comfort those who grieve the loss of their loved ones
and let your healing be the hope in our hearts…

Hear our prayer this day
and in your mercy answer us
in the name of all that is holy.

(Click here to read the rest).
May God hear our prayer. May we remember the importance of this level of sacrifice. May we remember the sacrifice made for our freedoms, as President Ronald Reagan noted:
"The United States and the freedom for which it stands, the freedom for which they died, must endure and prosper. Their lives remind us that freedom is not bought cheaply. It has a cost; it imposes a burden." — Ronald Reagan, Memorial Day speech, 1982
As well as Abraham Lincoln:
"That we here highly resolve that these dead shall not have died in vain; that this nation, under God, shall have a new birth of freedom; and that government, by the people, for the people, shall not perish from the earth."

— Abraham Lincoln, Gettysburg Address, 1863
And George W. Bush:
"They defended our nation, they liberated the oppressed, they served the cause of peace. And all Americans who have known the loss and sadness of war, whether recently or long ago, can know this: The person they love and miss is honored and remembered by the United States of America."

— George W. Bush, Memorial Day Address, 2004
Amen to that. Amen to them all. Amen to the prayers lifted up on Monday to honor and remember those who have been lost in war, those who made the ultimate sacrifice. And may we remember their families and friends, to honor their sacrifice as well, to offer comfort and aid to them, a listening ear, a shoulder on which to cry, a witness to their loved one, and to their lives. May we never forget them. May we always honor them. And may we pay tribute to them this Memorial Day with a moment of prayer, a moment of reflection, and a moment of gratitude for their willingness to fight for our freedoms.
Rest in peace:
On a personal note, Suzy and  I are headed down to Grand Cayman for two weeks. We
are looking forward to our time there with friends, and are especially happy that our (oldest) godson and his girlfriend will be joining us for the first week. Now that he is out of college and on his own, it means so much to us that he wants to spend time with us still. What a gift that is.
As happy as we are to be in our new home, we are ready for a vacation after the flurry of activity over the past three months as the house was being finished, moving in, dealing with being back in the early days of the Twentieth Century with no home phone, no internet, and limited television. That said, while we are happy to be connected to the world again, we will be happy to check back out for some R&R. I'll be checking in when I can, possibly daily, but for the most part, our days will be filled with fun in the sun, and reconnecting with people whom we love.
And with that I take my leave for two weeks. I want to thank KenoshaMarge for her willingness to post when she feels like it in my absence. Thank you so much, Marge!
I wish you all a good weekend, a meaningful Memorial Day, and a good couple of weeks.
This is the Weekend Open Thread.
Tags: Memorial Day