I love animals. Almost all animals. I don't like reptiles and confess they give me the shivering whimwhams. Most everything else is wonderful to me. Even duck-billed platypuses.
I've had wonderful horses, cats, goats, parrots and dogs. Never a platypus. Not yet anyway. But I've had lots of dogs. Loved them all and mourned them all.
Many people believe that dogs are man's best friend. I'm not about to argue the merits of one pet against another. They are all wonderful and love us more than we deserve. But today, let's talk about dogs.
There are many stories about dogs doing amazing things throughout history so I thought I would tell you about some of them today. Some are old some relatively new. You may have heard about them and maybe not. But all are worth telling about these wonderful, amazing canine friends.
We know dogs can become police officers and soldiers as well as warm and loving pets. They have been explorers and shown impressive bravery. They have often been heroes.
Swansea Jack was a black retriever who lived with his owner William Thomas near the River Tawe in Swansea, Wales, during the 1930s. One day, Jack saw a small boy drowning in the river and ran in, pulling the boy to shore by the scruff of his neck. There was no one around to see it, and had circumstances been different, the boy would probably have spent the rest of his life telling the story to people who would never believe him. But Jack wasn't done. Within a few weeks, Jack rescued another swimmer, this time with witnesses in attendance. And then another. And another. And so on. Over the course of the next decade, Jack was reported to have saved at least 27 people from, presumably, the most dangerous river and docks in Wales.

For his efforts over the course of his lifetime, Jack was given a silver collar by Swansea council, the Bravest Dog of the Year Award, a silver cup from the Mayor of London, and his very own statue. That's more accolades than your average Batman. And he's still recognized today—he was probably the inspiration for the nickname of Premier League football team Swansea FC, "The Swansea Jacks."
The above photo yanked at the heart-strings of millions of Americans in August 2011, as images of a grieving Labrador Retriever graced the pages of newspapers across the country.

At the funeral of Navy SEAL Jon Tumilson, attendees could see his faithful companion Hawkeye lying by the casket.

In front of 1,500 mourners at the beginning of the service, Hawkeye ambled up to the front of the room and laid down next to his master — showing his loyalty until the end.
Bamse was a Saint Bernard that served aboard a Norwegian minesweeper during World War II. Despite his cute and cuddly appearance—Bamse means "cuddly bear" in Norwegian—he was extremely tough. Bamse was originally brought on board by the ship's captain. When the captain tried to take Bamse with him when leaving for another posting, the crew, who had grown fond of the dog, threatened to leave the ship if he was taken away. They loved the dog so much that they would have mutinied rather than lose him.

Bamse became legendary in Dundee and Montrose, where the ship was stationed during World War II. He rode buses alone with a specially made bus pass tied around his neck, made sure that drunken sailors made it back to their posts, and allegedly put a stop to bar fights. Once, he rescued a crewman who'd fallen overboard by diving in to drag him to safety. He rescued another crewman cornered by a man with a knife by barreling into the attacker and dragging him into the water.

But Bamse was more than just a hero—he was also a peacemaker. It was reported that when sailors got into fights on board, he forced them to stop by standing on his hind legs with his paws on their shoulders as if to say, "Calm down, it's not worth it." And Bamse wasn't just famous in Scotland, where his ship was based—every Christmas, he was dressed in a little sailor's hat and photographed so that his picture could be put on Christmas cards and sent to the crew-mates' relatives in Norway. Awwww.
One of the most famous of devoted dogs is…

On 15th February 1858, in the city of Edinburgh, Scotland, a local man named John Gray died of tuberculosis. Gray was better known as "Auld Jock", and on his death he was buried in old Greyfriars Churchyard. Bobby, a wee Skye Terrier, belonged to John, who worked for the Edinburgh City Police as a night watchman, and the two of them had been virtually inseparable for approximately two years.

Bobby led his master's funeral procession to the grave at Greyfriars Cemetery, and later, when he tried to stay at the graveside, he was sent away by the caretaker.

But the little dog returned and refused to leave, whatever the weather conditions.

Despite the combined efforts of the keeper of the Kirkyard, Auld Jock's family and some of the local people, Bobby refused to be enticed away from the grave for any length of time, and he touched the hearts of the local residents.

Although dogs were not allowed in the graveyard, the people rallied round and built a shelter for Bobby and there he stayed, guarding Auld Jock.

FOR FOURTEEN YEARS BOBBY LAY ON THE GRAVE, LEAVING ONLY FOR FOOD.
Dog refuses to leave unconscious owner while waiting for paramedics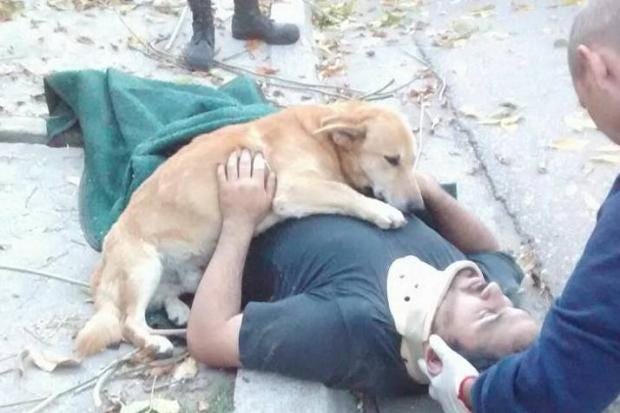 Jesus Hueche fell six feet from the tree he was pruning outside his home in Bahía Blanca, cracking his head on the pavement below.

Luckily, his neighbors noticed and called an ambulance. But while he waited, Tony never left his side.

Mr Hueche sustained "slight skull trauma", according to the Defensa Civil – the Argentinian emergency service.

They fitted him with a neck brace, but when they tried to load their patient into an ambulance to take him to the hospital, Tony tried to climb inside with him, the organization said on its Facebook page.

Eventually they managed to keep Tony clear and transport Mr Hueche to hospital, where he was treated for minor injuries and discharged on the same day.

"He goes everywhere with me and lies in my bed until my wife kicks him out," Mr Hueche told Argentinian radio station La Brujula 24.

"One day we saw him on the street and adopted him, gave him love, food and is part of our family. For me he's like a son."
 Shanna Niehaus has a 5-year-old son with high-functioning autism, and – to put it simply – he has a hard time making friends because of it.

However, he finally found the buddy who he's never had – and his mom was totally overwhelmed.

4 Paws For Ability is a nonprofit that pairs service dogs with kids with autism. After two years on the waiting list, Niehaus's son was finally introduced to his new service canine named Tornado.

"This picture captures the face of a mother who saw her child, who she can't hug, wash, dress, snuggle and touch freely lay on his new service dog of his own free will, with a purposeful unspoken attachment," Niehaus wrote on Facebook. "This is the face of a mom who has seen her son experience countless failed social interactions on the playground in an attempt to have a friend. Any friend."

"This is truly magic. Words cannot explain it. Some how because of this – because of Tornado – I know everything will be okay."
The story above as well as other heartwarming stories about the joy this wonderful organization brings can be found here.
Those of us that love animals, and especially dogs, know that there isn't enough time or space to tell all the stories about these marvelous animals.
Telling about so many incredible animals and admirable people is a welcome change from the world of politics, celebrity fools, media irresponsibility and other things that infest our daily lives.
It's a reminder that there is good and fun and devotion in the world. That's another thing we can add in the plus column about dogs.