Many of us thought/hoped that after his testimony last Thursday the whole Comey 3 Ring Circus would finally leave town.
Most people think it is long past time the country moves on and maybe, just maybe the media and both political parties can talk about, think about something besides James Comey.
Political opinion of Comey, from either the left of the right seems to depend on what day it is.
Cartoonists, like the rest of media cannot seem to let go of James Comey. So hopefully as I post the best cartoons I found, the best IMO, that will be the last time I post about this man.
I personally find him despicable. I find the furor over him tiresome. That being said, the cartoonists, as always found various ways to do a better job than the rest of media with the whole Comey situation and obsession. At least the cartoonists that I like.
Michael Ramirez seems to do his best cartoons using dogs. Maybe that's why I like them so much.
There were a lot of cartoons about the whole Comey thing being a "nothingburger". Although many did it well I think Glenn McCoy did it best.
Although I liked the previous cartoon the best I love the one below by Mike Lester for the perfect expression he somehow managed to get on the donkey's face. How does he do that?
The ever brilliant A.F. Branco from Legal Insurrection summed up the drama that never was. Perfect.
Rick McKee of the Augusta Chronicle shows the parties trying to convince the public that Comey proved their POV right. Listening to the media and the left I wondered if they were watching the same hearing the rest of us did.
And no, President Trump, you weren't proven clean as the driven snow. You were actually called a liar. Repeatedly.
However there was no there-there so far as criminal actions that would lead to impeachment. You would have logged in a win if you had the brains to act like an adult and not tweet.
Dana Summers also points out how two different parties saw two different hearings. Summers is also a genius at getting so many expressions on a cartoon donkey's face.
Cartoonist Mike Shelton asks with his clever cartoon what many of the rest of us are asking – why the media obsession with Comey while ISIS continues to murder and maim? Could it be that all they're interested in is getting Trump?
Meanwhile back in the MSNBC cesspool…
If the sight of Chris Matthews face ruined your day, I apologize. Let's get back to something more credible – like cartoons.
Mike Lester has another brilliant cartoon about the Comey hearing that I thought was perfect.
CNN's John King: Comey's "Damning Account" Of Loretta Lynch "Won't Get Much Attention".
According to King that's because the Loretta Lynch thing is in the rear view mirror. Isn't that convenient? Isn't that just precious coming from people that scurry to dig up scandals in the rear-view mirror from decades ago if the scandal is about someone, anyone, on the right.
A.F. Branco again. I love how he shoots down/deflates the media/Democrat narrative with his cartoons. He highlights what the MSM refuses to highlight – that the only "bombshell" from the hearing was the Comey/Lynch collusion to protect Hillary. The man is brilliant.
A cartoon collection without the always brilliant Gary Varvel wouldn't be complete IMO. He is in my top five favorites if not the top 3. There are so many good cartoonists on the right it's really hard to choose a favorite.
Jeff Korterba is not one of my favorites – usually. This cartoon however sums up the whole "matter" matter quite cleverly IMO.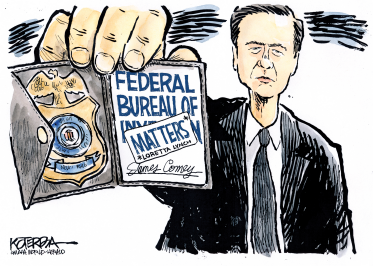 I seldom like lefty cartoonist Steve Sack cartoons but in this case he's trying to point out to his side that while they are obsessing about Comey there are other things happening that just might need some attention. He's right about that.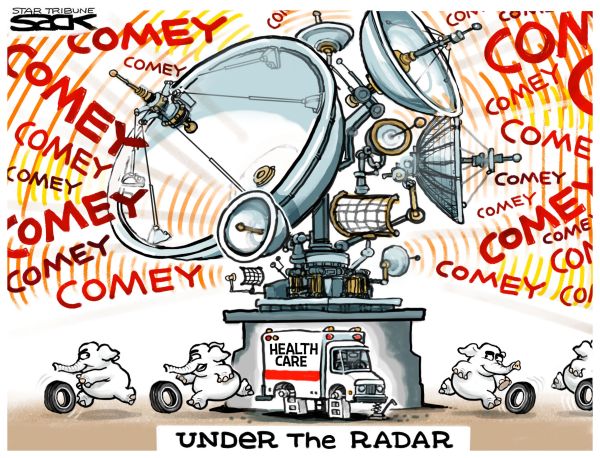 I'll end this Comey fest, hopefully the last Comey fest, with another clever cartoon from Mike Shelton. Few in cartoon land or the MSM mention Comey's testimony about being scared. I thought it repulsive that a man in his position would say such a thing.
Meanwhile the sun is shining, friends and family provide love and comfort and the world keeps on spinning. With or without hearing about Jame Comey. Hopefully without.
So I wish you a …