My largest flag, 3 x 5, is flying from the front porch. Smaller flags are proudly displayed in the large flower pot which sits in the middle of my front yard. The pot is planted with red and white petunias and blue lobelia which is my way of flying the flag all summer. There are red, white and blue pinwheels spinning in the morning breeze. Yup, ready to start Flag Day this June 14, 2017.
So what is this day, and this flag all about?
On June 14, 1777, the Continental Congress passed an act establishing an official flag for the new nation. The resolution stated: "Resolved, that the flag of the United States be thirteen stripes, alternate red and white; that the union be thirteen stars, white in a blue field, representing a new constellation."
Betsy would often tell her children, grandchildren, relatives, and friends of a fateful day, late in May of 1776, when three members of a secret committee from the Continental Congress came to call upon her. Those representatives, George Washington, Robert Morris, and George Ross, asked her to sew the first flag. George Washington was then the head of the Continental Army. Robert Morris, an owner of vast amounts of land, was perhaps the wealthiest citizen in the Colonies. Colonel George Ross was a respected Philadelphian and also the uncle of her late husband, John Ross.
Betsy Ross was born on January 1, 1752, to Samuel Griscom (1717–93) and Rebecca James Griscom (1721–93) in Philadelphia, Pennsylvania.
Betsy was the eighth of seventeen children, of whom only nine survived childhood.
Her great-grandfather, Andrew Griscom, a member of the Quakers and a carpenter, had emigrated in 1680 from England.
She grew up in a household where the plain dress and strict discipline of the Quakers dominated her life.
She learned to sew from great-aunt Sarah Elizabeth Ann Griscom.
After her schooling at a Quaker-run state school, her father apprenticed her to an upholsterer named William Webster. At this job, she fell in love with fellow apprentice John Ross (nephew of George Ross Jr, signer of the United States Declaration of Independence).
The marriage caused a split from her Griscom family and meant her expulsion from the Quaker congregation. The young couple soon started their own upholstery business.
They later joined Christ Church, where their fellow congregants occasionally included visiting Colony of Virginia militia regimental commander, colonel, and soon-to-be-general George Washington.
Betsy and John Ross had no children.

| | |
| --- | --- |
| 1775 | American ships in New England waters flew a "Liberty Tree" flag in 1775. It shows a green pine tree on a white background, with the words, "An Appeal to Heaven." |
| 1775 | The Continental Navy used this flag, with the warning, "Don't Tread on Me," upon its inception. |
| 1775 | Sons of Liberty flag. |
| 1775 | New England flag. |
| 1775 | Forster flag. |
| 1776 | January 1 — The Grand Union flag (Continental Colors) is displayed on Prospect Hill. It has 13 alternate red and white stripes and the British Union Jack in the upper left-hand corner (the canton). |
| 1776 | May — Betsy Ross reports that she sewed the first American flag |

The Fourth of July was traditionally celebrated as America's birthday, but the idea of an annual day specifically celebrating the Flag is believed to have first originated in 1885. BJ Cigrand, a schoolteacher, arranged for the pupils in the Fredonia, Wisconsin Public School, District 6, to observe June 14 (the 108th anniversary of the official adoption of The Stars and Stripes) as 'Flag Birthday'.

In numerous magazines and newspaper articles and public addresses over the following years, Cigrand continued to enthusiastically advocate the observance of June 14 as 'Flag Birthday', or 'Flag Day'.On June 14, 1889, George Balch, a kindergarten teacher in New York City, planned appropriate ceremonies for the children of his school, and his idea of observing Flag Day was later adopted by the State Board of Education of New York.

On June 14, 1891, the Betsy Ross House in Philadelphia held a Flag Day celebration, and on June 14 of the following year, the New York Society of the Sons of the Revolution, celebrated Flag Day.

Following the suggestion of Colonel J Granville Leach (at the time historian of the Pennsylvania Society of the Sons of the Revolution), the Pennsylvania Society of Colonial

Dames of America on April 25, 1893 adopted a resolution requesting the mayor of Philadelphia and all others in authority and all private citizens to display the Flag on June 14th. Leach went on to recommend that thereafter the day be known as 'Flag Day', and on that day, school children be assembled for appropriate exercises, with each child being given a small Flag.

Two weeks later on May 8th, the Board of Managers of the Pennsylvania Society of Sons of the Revolution unanimously endorsed the action of the Pennsylvania Society of Colonial Dames. As a result of the resolution, Dr. Edward Brooks, then Superintendent of Public Schools of Philadelphia, directed that Flag Day exercises be held on June 14, 1893 in Independence Square. School children were assembled, each carrying a small Flag, and patriotic songs were sung and addresses delivered.

In 1894, the governor of New York directed that on June 14 the Flag be displayed on all public buildings. With BJ Cigrand and Leroy Van Horn as the moving spirits, the Illinois organization, known as the American Flag Day Association, was organized for the purpose of promoting the holding of Flag Day exercises. On June 14th, 1894, under the auspices of this association, the first general public school children's celebration of Flag Day in Chicago was held in Douglas, Garfield, Humboldt, Lincoln, and Washington Parks, with more than 300,000 children participating.
I hope everyone proudly flies their flag(s) today because it seems to me that the flag, and our country, are under assault from both within and without. Few of our young people know the history of the flag or the country. That's not entirely their fault, they didn't receive the education they were entitled to as free Americans. Instead an education system
increasingly more interested in indoctrinating an ideology instead of teaching children has become the norm.
Flying a flag is met with hostility in some places, and I'm not talking about a foreign country. Although I wonder sometimes if densely packed liberal areas or states are not foreign to all I know and believe.
Enough of my rant, this is meant to be about our flag. A flag that is more than stars and stripes, more than red, white and blue. It stands for freedom. Long  and proudly may it wave.
Hopefully some still remember for which it stands. Some young people will know because they are fortunate enough to have family and friends that educate them to the wonders of living under this flag.
I hope you have a great day. And I wish you…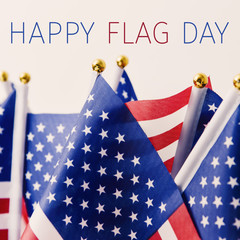 BREAKING NEWS:
 UNDER ATTACK: House Majority Whip Scalise And His Staff Have Been Shot 
By Katie Pavlich
Republican Congressman and House Majority Whip Steve Scalise was shot early Wednesday morning in Alexandria, Virginia while practicing for the Congressional baseball game at Eugene Simpson Stadium Park. Scalise was shot in the hip and is reportedly in stable condition. His staffers and two Capitol Police officers were also shot. At least five people were hit.
https://townhall.com/tipsheet/katiepavlich/2017/06/14/breaking-congressman-scalice-has-been-shot-n2340992