Thank God, it's the weekend. Whew! I am particularly excited for it because my beloved New York Yankees are playing the final game Saturday night to determine if they can  return to the World Series. Friday night's game was maddening, but hopefully Saturday night is the night. It's about time we got back to the World Series already!
Beyond that, I am thankful to be taking a break from the insanity that seems to be roiling the DC media and media in general. I am so sick of the media parsing every little thing Trump said, to the extent that they are politicizing the deaths of four brave Green Berets. That is despicable, and they need to stop it already. Their constant focus on superficial minutiae while important matters are afoot, allowing Democrats to use smokescreens lest anyone notice the big things, is absurd. Enough already. Sheesh!
Hence the need for a little good news, and that would be the point of the weekend post. First up is a great story about a wedding crasher down in Brazil. From HuffPo:
When Marília married Matheus on Sept. 30 in Laranjal Paulista, Brazil, rainy weather forced the couple to move the ceremony into a tent. As guests took their seats, a stray dog with muddy paws wandered into the area but was escorted outside. He then made his way back in again.

"As the ceremony started, to everyone's surprise, it was the dog who came in when the bridal chorus began to play," Marília told The Dodo.
For the second time, the persistent pup was moved outside, and the ceremony carried on. But while the couple was exchanging their vows, the dog entered yet again and plopped down on the bride's veil for a nap ― a moment captured in the photo above.

"I was really surprised and thought the little guy was really cute," Marília told HuffPost in Portuguese. (Click here to read the rest.)
Can you believe the bride allowed this stray dog to lie own on her beautiful veil? I mean, he does look pretty comfy and all, but still – that is some major kindness going on there.
But the story doesn't end there, oh no. This lovely young couple opened their hearts to this stray guy, tracked him down, and now he is a member of their family: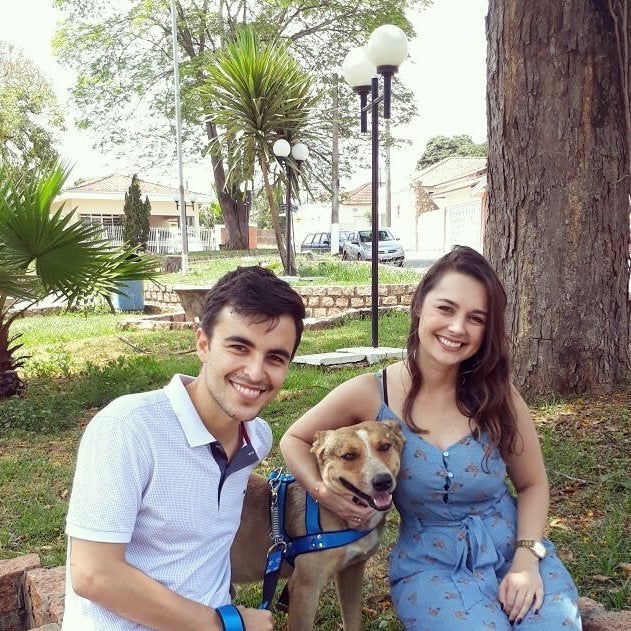 According to the HuffPo article, this couple hopes that their story will encourage more to adopt stray dogs.
Speaking of saving animals, a friend shared the following story with me about one woman's solution to save all of her horses during the fires in CA. From the Sacramento Bee:
Lauren Mesaros lives across the train tracks from Santa Rosa's Coffey Park neighborhood, which was devastated by the Tubbs Fire.

Upon realizing she had to evacuate, the registered nurse at UC San Francisco knew what was most important to her: her three horses, according to The Press Democrat.

Her friend Carol Spears' trailer could only fit two of the three horses, which left Mesaros to make a quick decision to save all three.

She decided to pack her pony, Stardust, into the back seat of her 2001 Honda Accord. Using a carrot, she and Spears – whom Mesaros calls "a horse whisperer" – got Stardust into the car, SFGate reports.

"He just went in like a big dog. As a horse owner we didn't think twice about it. It's like putting your dog or cat in the car," Mesaros told The Press Democrat.

(Click here to read the rest.)
Ahahahaha. How stinking cute is that little pony?? Adorable!!
That was some fast thinking and a great solution to a crisis situation. Heck, if Jordan would fit in my car, I'd sure do it!
While we are on the subject of small horses, a friend shared this less than graceful compilation of young fillies and colts getting used to their legs. Totally cracked me up:
Aren't they so cute learning how to use their legs? I love how their mothers just look back at them when their offspring run into them like, "what the heck?" Then they just turn back around and keep grazing like nothing happened. So cute, and just a tad graceless.
On the flip side, I want to finish up with something that is definitely graceFUL, and just beautiful. As many of you know, I am a fan of Dancing With the Stars. This past weekend was their Disney week. Violinist Lindsey Stirling did an absolutely beautiful Foxtrot with her partner, Mark Ballas. Check it out:
Wasn't that just lovely?
A bit more about Stirling – she had a very close relationship to her father, who was a writer. When his little girl showed promise with the violin, he went into teaching to be able to pay for her violin lessons. Sadly, he passed last year, but not before being able to see what an amazing musician and performer his daughter became:
Stirling is one incredible, graceful, talented young woman. I'd say those lessons were well worth it!
Okay, folks, that's it for me. I hope you have a great weekend, and Go, YANKEES!!!
This is the Weekend Open Thread.
Tags: Dancing With The Stars, Green Berets, New York Yankees