On Tuesday, I wrote about the attack on, and protest of ICE facilities. over te planned ICE raids of illegal aliens. I wondered just who it was behind the attack on the facility in Aurora, CO. That was the facility where they took down the US Flag, and hung the Mexican flag. They also defaced a Blue Lives Matter flag, putting it back up upside down, with "Abolish ICE" spray painted on it. You know – this: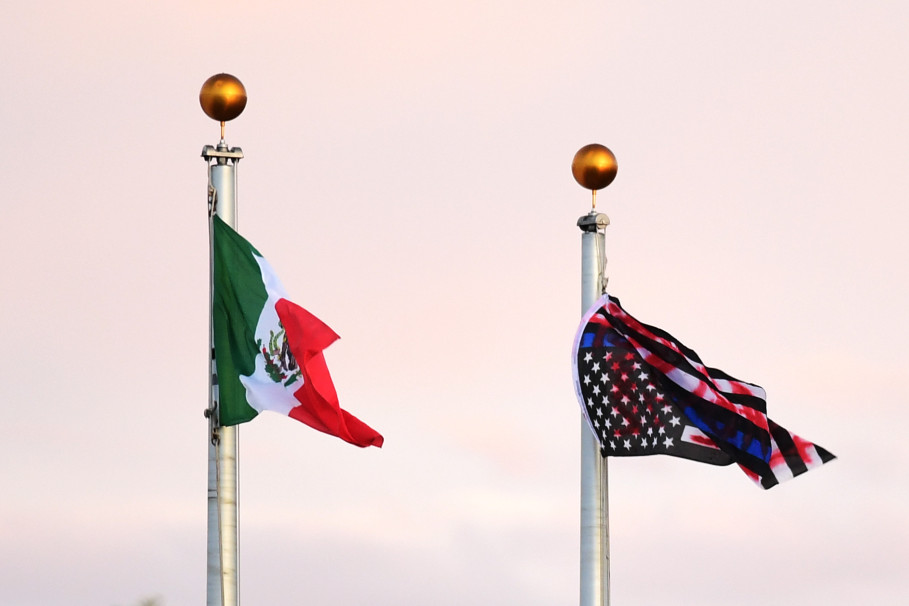 GRRRRR. It makes me angry as hell every time I see this.
So, who were the culprits? Michelle Malkin has exposed the ringleaders who engaged in this un-American protest. One of them is going to make your blood boil. Why? You'll see. From Michelle Malkin at Townhall:
One of the top promoters of the so-called Lights for Liberty nationwide protests by Trump-hating, ICE-bashing radicals was a nonprofit religious organization known as the Lutheran Immigration and Refugee Service. As a designated "host," LIRS played a key role in publicizing, organizing and participating in demonstrations against President Donald Trump's deportation enforcement actions targeting some 2,000 illegal immigrants and their families who have ignored removal orders or skipped out on court hearings.

Brazen hatred of cops, Border Patrol and ICE agents were on full display at the open borders protests fronted by LIRS and other left-wing groups, including Code Pink, CASA and CAIR. Marchers echoed the "Close the Concentration Camps" rhetoric of Congressional Brat Pack Rep. Alexandria Ocasio-Cortez (D-N.Y.). They carried signs declaring "ICE=Gestapo" and "Free the People, Burn the Camps." It's not just idle rhetoric. Antifa thug Willem Van Spronsen, armed with a rifle and incendiary devices, attempted to set a Tacoma ICE facility on fire on Saturday before being shot dead. He has been hailed as a "hero" and a "martyr" by fellow "progressive" travelers, while sympathetic mainstream reporters and activists look the other way.

The president and CEO of LIRS, Krishanti Vignarajah, is a Sri Lankan refugee and former Michelle Obama policy director who led the Lights for Liberty event in Washington, D.C. She argues that Americans are obligated to open the floodgates at the southern border (since she turned out so great) and vehemently opposes what she calls "militant border enforcement." To these border-sabotaging radicals, of course, any border enforcement is "militant."
Isn't that interesting? That the President of LIRS worked for Michelle Obama? A woman who runs an agency that declares our borders should be open? Uh, yeah.
But wait – it gets worse:
LIRS sounds like just the kind of extremist group you'd expect to be kept afloat by billionaire George Soros' big bucks. But hold on to your wallets and your American flags, folks: In 2016, LIRS relied on $64.7 million in government subsidies from taxpayers — that's you and me — to fund a whopping 96.2% of its budget.

LIRS is one of nine agencies that receives tens of millions of dollars to resettle refugees from around the world. The organization brags that it is "a vital arm of the United States refugee admissions program" that has worked with the State Department to import "over 500,000 refugees" to our country. One of LIRS' most famous clients? Somalian-born Minnesota Democratic Rep. Ilhan Omar, whose immigration, marriage and tax fraud problems I reported on in my column last month. […] (Click here to read the rest.)
YOU are paying for this organization. YOU. Your tax dollars make up almost LITS's ENTIRE BUDGET. This organization that is protesting one of our law enforcement facilities, is a sanctioned refugee organization, and which promotes open borders, is being paid for BY YOU.
Yeah – that's your tax paying dollars at work. If you are opposed to open borders, and opposed to your tax dollars being used to fund an anti-American organization, I suggest you contact your legislators tout de suite  to rescind this organization's certification and funding.
This is a HORRIBLE use of our money. They clearly do not deserve it, nor should they be affiliated with the US Government in any way, shape, or form, given their actions at Aurora, as well as their joining arms with the likes of Hamas-affiliated CAIR.
WOW.
As to those ICE raids, as the following article highlights, this wasn't ICE officers storming into communities with armored vehicles grabbing anyone they could. Not at all. From The Federalist:
Far from a mass roundup, ICE's responsibility was to find approximately 2,000 illegal immigrants. Nor were the targets randomly chosen to inspire terror among illegally present foreigners or to display a sign of the administration's lawless lust for retribution against those who break immigration laws.

With a population of 11 million illegal immigrants and some estimates saying as many as 1 million of them are already under court order to leave after receiving due process, the arrest of every one of those on the current list couldn't even be counted as a drop in the bucket for dealing with the problem.

Moreover, those chosen had already been through the long, tedious process by which the government is forced to prove its case in immigration courts. All have already been ordered out of the country after they had a chance to make their case to be able to stay or even to claim asylum. All of them had broken federal law, received their day in court, and had received court documents telling them they must leave the country.

Nor, despite the talk of jackbooted tactics by ICE agents that fueled inappropriate Holocaust analogies, with the illegal immigrants being described as latter-day versions of Anne Frank, were the authorities granted carte blanche by the courts to bring in their targets by any means. ICE is flatly prohibited from entering the homes of these illegal immigrants. All they can do is knock and ask them to come out and must impotently wait in frustration if no one complies. […] (Click here to read the rest.)
Well, gee – that isn't exactly the impression given by the Left/media, is it? Yeah, not even close. And no doubt it was intentional to obscure the very limited scope of what ICE was doing so they cold push their far left anti-US, anti-border ranting.
Speaking of the Far-Left rantings and AOC's insane comparisons of illegal alien holding facilities to concentration camps, I have some interesting news there (h/t friend for this link). That would be the Republican challenger to AOC in her district. From the NY Post:
Scherie Murray, a Jamaican-born woman who grew up in Queens and founded a TV production and advertising company, plans to run for the congressional seat held by Democratic Rep. Alexandria Ocasio-Cortez, according to a report.

"There is a crisis in Queens, and it's called AOC," Murray, 38, told Fox News. "And instead of focusing on us, she's focusing on being famous. Mainly rolling back progress and authoring the job-killing Green New Deal and killing the Amazon New York deal."

The Republican, who moved to the US when she was 9, slams the New York progressive darling in an introductory video. […] (Click here to read the rest.)
Oh, this is gonna be good. Yep. I need some more popcorn for this one. Hmm, maybe I'll go donate to Murray's campaign!
That's it for me. What's on your minds today?
This is an Open Thread.
Tags: Alexandria Ocasio-Cortez, CAIR, Hamas, ICE agents, ICE Facilities, ICE raids, Illegal Aliens, LIRS, Michelle Malkin, Michelle Obama, Scherie Murray