UPDATE: I usually put updates at the bottom of the post, but this one is too important for that. I was terribly remiss in not mentioning in my post that this is the 76th Anniversary of D-Day. Thanks to KenoshaMarge for reminding me of this day that made such a tremendous difference to us, and to the world.
I want to honor all those who fought so hard to defeat fascism and ensure our way of life:
Thank you, from the bottom of my heart. And now, back to the original post…
I know that is not the most ministerial thing to say, but in the midst of all of this lunacy, yeah, I'm over it. Truly.
And if you need an example of why, you can check out this Laura Ingraham monologue, which begins with George Floyd's own brother telling people to stop what they are doing, that they aren't going to bring his brother back. But the levels of violence have just been staggering. Add to that the reality that people are being paid to engage in these riots,  with pallets of bricks showing up in random places in cities, and so much more, as Ingragham notes below:
Until that time when we get this country back under control, with the provocateurs who are waging an insurrection in this country behind bars immediately, I'm gonna provide a little respite for a couple of days.
And that begins with the focus on "little." Check out this adorable baby platypus: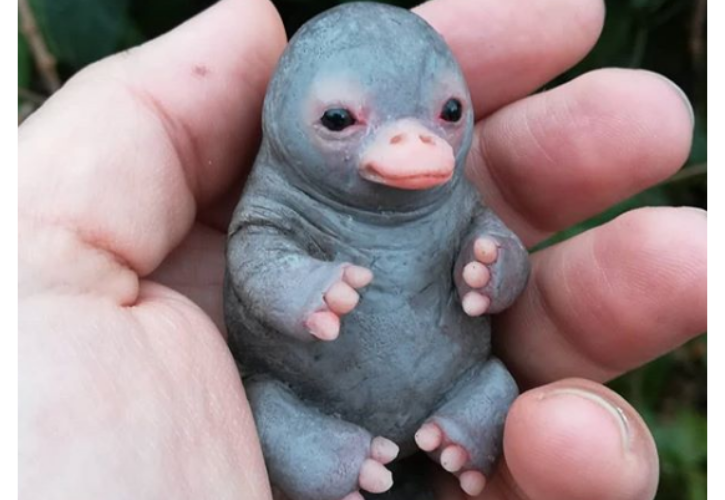 Can you even believe that's real?? How absolutely adorable! I can barely stand it. Wow!
And then there is this next little video. Last week I had one of penguins visiting a museum. Check out these small goats being introduced to river otters:
Aren't they so cute? All of them – the goats, the otters, and their handlers. I love them all playing games  together. What fun!
And since the penguins were a hit (and I mean, really – how could they not be? The way they move and walk is just fun to watch!), here are a couple more videos of penguins meeting other animals in an aquarium.
First up is a Rockhopper penguin. My partner, Suzy, got to see some of these hopping penguins in person when we were on a South American cruise that took us to the Falkland Islands. Check out this cutie meeting some beluga whales:
Isn't that just precious? Beluga whales are so cool – I love them, too.
To digress for a moment, who wouldn't love these fun-loving creatures of the sea? A while ago, I included a video of a beluga whale out in the wild enjoying a game of Fetch with a guy on a boat near the Arctic Pole:
Isn't that awesome? Love that…
Okay, back to those adorable little penguins bebopping around. Now, if you enjoy watching these little fellas walk around, you're going to LOVE this one. Check out this flock's daily constitutional:
Ahahaha – isn't that just too good?? I love watching them walk, hop, and jump. They absolutely crack me up.
Well, my shoulder has about had it, but I did want to come full circle to what Laura Ingraham was discussing above, and the levels of violence we are seeing in our nation now. Since too many are twisting the words of The Rev. Dr.Martin Luther King, Jr., I want to leave you with some wise words from his niece, The Rev. Alveeda King. From Faithwire:
She recalled the now-famous words of her uncle.

"He dreamt of a world where people 'will not be judged by the color of their skin but by the content of their character.'"

"People are human beings with so much more uniting us than dividing us. People have human personalities. As Martin Luther King once said: 'When we value the human personality we won't kill anybody.' He also said: 'Injustice anywhere is a threat to justice everywhere. I have decided to stick with love; hate is too great a burden to bear,'" King said.

She said she was saddened that a quote from her uncle about violence is being taken out of context by some people.

"The prophet said that 'violence is the language of the unheard.' Some people are calling this an endorsement of violence, but nothing could be further from the truth. MLK spoke those words in defense of non-violence; he refused to promote violence as a solution to the ills of society," King explained. "Martin Luther King preached love, not hate; peace, not violence; and universal brotherhood, not racism. 'Love is the only force capable of transforming an enemy into a friend,' he said in 1963."

King said if her uncle were alive today he would be fighting nonviolently for justice and against all forms of hatred and racism. […] (Click here to read the rest.)
Amen to that. People need to stop trying to justify violence by quoting a man of God who consistently advocated for the exact opposite of that.
And our nation needs to stand up to those who use violence as a means to get their way while destroying the lives of others.
At least that's what I think.
But I don't want to leave you on that note. Rather, i prefer to leave you on this note, a new song from Dolly Parton that is a real blessing, looking toward the future, being kind, and loving:
Preach it.
This is the Weekend Open Thread. What's on your minds?
Tags: Dolly Parton, Laura Ingraham, Rev. Dr. Martin Luther King, Rockhopper Penguins, The Rev. Alveeda King