One would have to be living under a rock in the high mountains to not know that while many of us were sleeping, President Trump met with North Korean dictator, Kim Jung Un. And now we know what was decided, if anything at all.
President Trump won't be gone long, slinging over to Singapore for a relatively short visit. Before meeting with NOKO's Dictator, though, Trump spent some quality time with the Prime Minister of Singapore, Lee Hseien Loong, who made their luncheon together a special one. From BizPacReview:
Trump met with Singaporean Prime Minister Lee Hsien Loong on Monday. During their lunch, the latter had a special birthday cake brought out for the American president, who will turn 72 Thursday.

Singapore's Minister of Foreign Affairs Vivian Balakrishnan tweeted out a picture of the festivities.

"We appreciate your hospitality and professionalism and your friendship," Trump reportedly said in response. "You're my friend," the president told Prime Minister Lee. The meal also included lobster bisque, beef tenderloin and ice cream. […] (Click here to read the rest.)
That was mighty nice of them. Not everyone acts like a petulant foul-mouthed pre-teen when it comes to Trump (talking to you, DeNiro). Some people are capable of being adults and acting accordingly. What a concept! Anyway, good on Singapore for their warm welcome and early birthday celebration.
Prior to the meeting, there has been ALL kinds of speculation about just what was going to be the result of the meeting between these two leaders. One of my Senators, Lindsey Graham, made this prediction at ABC News:
Sen. Lindsey Graham of South Carolina told ABC News Chief Anchor George Stephanopoulos on "This Week" Sunday that there are ultimately three possible outcomes to President Trump's negotiations with North Korea's Kim Jong Un: "Peace, where we have a win-win solution; military force where they — we devastate the North Korean regime and stop their program by force; or to capitulate like we've done in the past."

Graham continued, "Donald Trump is not going to capitulate, so there's really only two options — peace or war."

The senator said he supports a call by several leading Democratic senators for the U.S. not to lift sanctions against North Korea without verifiable dismantling of its nuclear and missile arsenal. The Democratic senators set out their recommendations in a letter to Trump last week. […] (Click here to read the rest.)
Peace or war – those are our only choices according to Graham. I agree that we need to make sure whatever promises comes out of the meeting that there are verifiable ways to ensure compliance.
It is IRONIC, though, that Democrats are making this demand considering their support of Obama's terrible, horrible, no good Iran Deal in which the USA was allowing a  despotic state sponsor of terrorism to inspect them own selves (a Southern colloquialism for you) when it came to THEIR nuclear weapons. I seriously doubt that since Trump pulled out of the Iran Deal that he would ever agree to anything less than "verifiable dismantling." But yeah, sure, go ahead and make that case, Democrats and Graham (often one in the same when it comes to our illustrious – ahem – Senator).
Sec. of State Mike Pompeo is one person who actually knows whereof he speaks, and who helped set this whole thing up in the first place. He had this to say in anticipation of the historic meeting From IJR:
"These discussions … will set the framework for the hard work that will follow," Pompeo said at a news conference. "We'll see how far we can get, but I'm very optimistic that we will have a successful outcome."

Pompeo also discussed what concessions the United States is ready to provide to North Korea to secure a successful meeting between the two world leaders.

"We are prepared to take actions that will provide [North Korea] sufficient certainty that they can be comfortable denuclearization isn't something that ends badly for them," Pompeo said. "Indeed just the opposite, that it leads to a brighter, better future for the North Korean people."
That makes sense. I cannot imagine a hermit dictatorship would be willing to do anything without major assurances for the people who live there, so that makes sense.
Pompeo made these additional points:
"We're prepared to give security assurances that are different, unique to what America has been willing to provide previously," he said. "We think this both necessary and appropriate," he added.

The secretary of state added that the "ultimate objective" going into Tuesday's meeting hasn't changed: "The complete, verifiable and irreversible denuclearization of the Korean Peninsula is the only outcome that the United States will accept."

Trump has said that he's prepared to walk away from the meeting if Kim is not serious about banging out a deal that would lead to denuclearization, noting over the weekend that "within the first minute," he'll know where the leader of the rogue nation stands. […] (Click here to read the rest.)
To that last point, the incomparable A.F. Branco had this great cartoon (as I channel KenoshaMarge):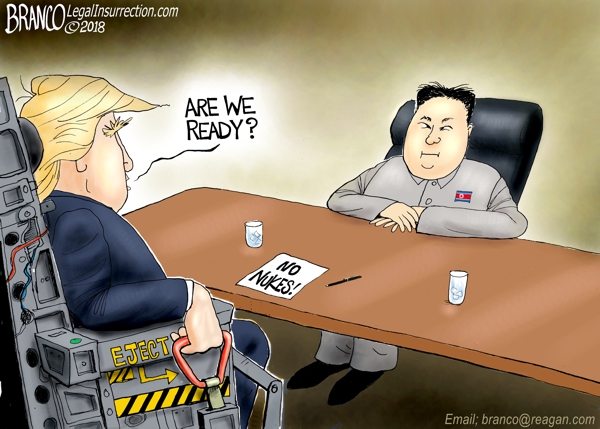 Love it. That really says it all.
But hey, that's what you have to be willing to do in a negotiation anyway, walk away if the bottom line terms aren't met.
So, how did it go? Well, there is no other way to describe it than HUGE – truly. From Fox News:
President Trump and North Korean leader Kim Jong Un signed a document on Tuesday stating that Pyongyang would work toward "complete denuclearization of the Korean Peninsula"— a historic concession, which was one of the requirements the U.S. sought at the summit in Singapore.

The historic agreement came after the two leaders held several meetings throughout the day. Trump was asked by a reporter if Kim agreed to denuclearize and he said, "We are starting that process very quickly.

[…]

Trump told reporters that the remains of U.S. prisoners of war and those missing in action during the Korean War will also be returned.

Trump said he asked Kim to commit to returning the remains "and we got it." […] (Click here to read the rest.)
Oh, and yes, the sanctions against North Korea are going to stay in place. I am sure that is a relief to many, including Sen. Graham and the Democrats.
One more thing: Trump said that the death of Otto Warmbier sparked the drive for this summit. He said that without Warmbier's death, the summit would not have happened. Trump said during a press conference that, "he did not die in vain…" No, indeed he did not. I imagine this was some consolation to his parents for Trump to make this claim.
Here are President Trump and Kim Jong Un speaking at the signing of the document:
Now that the meeting has concluded, there is already all kinds of speculation about the various components decided upon by the two leaders, time lines for action, and how denuclearization will occur. Trump noted that they will have more meetings, which makes sense. But this is a major, MAJOR accomplishment for President Trump, for the country, and for our allies.
Feel free to discuss the NOKO meeting or whatever else is on your minds. This is an Open Thread.